products
Bone Metabolism
Cancer Markers
Cardiac Markers
Diabetes
Endocrinology
Gastroenterology
Hormones
Immunology
services
Latest News
Helicobacter Pylori (IgG) ELISA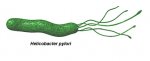 Helicobacter pylori (IgG) -Ab ELISA
Specification:
Catalog Number: Helicobacter pylori HU-LB17
Description: Helicobacter pylori (IgG) ELISA
Sample Type: Serum
Sample Size: 10 µl
Available Sizes: 96 Wells
Range: 1-150 U/ml
Sensitivity: 1.0 U/ml
Incubation: 1 hour(s) 50 minutes (s)
Protocol: Helicobacter pylori (IgG) ELISA
Regulatory Status: RUO
Product Distribution: Available worldwide

Helicobacter pylori (IgG) -Ab ELISA - For the quantitative/qualitative determination of IgG antibodies to Helicobacter pylori in Serum or Plasma.
H. pylori is a small, spiral-shaped bacterium that lives in the surface of the stomach and duodenum. It is
implicated in the etiology of a variety of gastrointestinal diseases, including duodenal and gastric ulcer, nonulcer
dyspepsia and active and chronic gastritis. Both invasive and non-invasive methods are used to
diagnose H. pylori infection in patients with symptoms of gastrointestinal disease. Sample-dependent and costly
invasive diagnostic methods include gastric or duodenal biopsy followed by urease testing (presumptive), culture,
and/or histologic staining. Non-invasive techniques include the urea breath test, which requires expensive
laboratory equipment and moderate radiation exposure, and serological methods.
Individuals infected with H. pylori develop serum IgG antibodies which correlate strongly with histologically
confirmed H. pylori infection.